Adar II 18, 5779, 03/25/2019
By: Ikey Gutlove ('20) When March 4, otherwise known as "Sarachek Selection Monday", arrived and the seeds of the tournament were revealed, the Lions were...
On the Sunday before Purim, over 80 rabbis met in the White Shul in Far Rockaway to discuss the important services provided by the...
By Rabbi Moshe Bloom Torah VeHa'aretz Institute "This offering, with cakes of leavened bread added, he shall offer along with his thanksgiving sacrifice … of this...
Omar Sheitel Missing Since she assumed her Congressional seat in January, Representative Ilhan Omar has been seen wearing very colorful but also modest head coverings...
We were on the move just about all day long. We were in Albany for a day last week with Teach NYS, a subdivision...
Question I very much want to meet a man and get married, but I am having problems with that, and I think the reason is...
Dear Editor, The column in last week's paper about the Shomer Yisrael (From The Editor, "The Shomer Israel Fraud," March 15) should have been titled...
Dear Editor, I have to tell you how much I love your paper. I'm not an avid newspaper-reader, but yours I peruse almost cover-to-cover. I...
When I sit down and speak with first time buyers, there are a few important points that I emphasize to them. First and most important...
Dear Ms. Sebrow, First, I want to thank you and the 5TJT for bringing this topic out in the open. Silence only strengthens the perpetrators...
L'Kovod Harav Schmerling, Thank you for your readership and your sincere sensitivity to victims. With the greatest respect to you, I would like to respond...
The Life Of Marton Sternberg, Part 4 In Part 3: The bird of prey had spread its wings over the Jewish community of Hungary. The...
By Rabbi Benji Levy A few weeks ago, I woke up to a flurry of messages from my students in Australia asking how swastikas could...
As Purim approaches, writing a serious article seemed out of place for this column, so here are a couple of mini-spiels (sources unknown) I...
"Throne Together, how can I help you?" "Yeah, hi. I ordered a chair a while back, and it hasn't come yet … This is the...
I never watched TV growing up, except for motzaei Shabbat, when I loved Love Boat and Fantasy Island. Yes, I'm aging myself, but I...
In honor of Purim, I've compiled an updated list of ten things your child would want you to know … in his or her...
By Moshe Alpert Before I discuss the more practical elements of a financial plan, I cannot overemphasize the importance of meeting with a financial advisor....
By Anessa Cohen How many of us still use Airbnb since they announced they will not provide their services for Jewish-owned properties in Judea and...
By Ben Levene What a 10 days I had in New York! I met so many new clients and visited several of my existing/past clients. What I...
The Democrats' most pressing agenda includes global warming, impeaching Trump, and winning, by hook or by crook, in 2020. They are so hung up...
By Benny Mermel ('19) The MTA Debate Team demonstrated their eloquence and prowess once again at the Annual Heschel Debate on Wednesday, March 6, which...
Response To Open Letter To OU Dear Avi Goldstein, Your open letter to the OU regarding Big Gay Ice Cream, as printed in the February 8...
Dear Baila, I have written to you a few times before. I am compelled to write again in regard to the Dating Forum. Bravo! Absolutely...
Reviewed by Yochanan Gordon There's a story of the Kotzker Rebbe who was asked by a group of chassidim how well he knew his followers....
Nestled in the heart of West Hempstead, 15 minutes from the Five Towns, Hunki's of West Hempstead is a time-honored tradition. Featuring a family-friendly...
The Beth Din of America, widely regarded as one of the leading Jewish religious courts in North America, released a new study on the...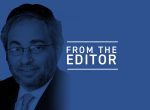 Rabbis have written opinion pieces warning that children in the yeshiva community are under siege by the New York State Education Department. They were...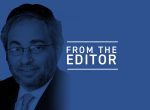 It might be rolled out fairly soon, but, then again, it may take another six months to a year. That is the Trump administration's...
https://youtu.be/qO4zDGR9GhU https://youtu.be/O-e39axb1a0 https://youtu.be/Dt_sxh0qCO4