Keepod makes a complete operating system that fits on a USB device and can make old, refurbished computers act like new. It plans a campaign to offer low-cost computing to the two-thirds of the globe's population that currently has little or no access. This BBC article shows the test bed for the project in the slums of Nairobi, Kenya, while omitting to mention the Israeli origin of the invention.(of course.)
Keepod: Can a $7 stick provide billions computer access?
By Dan Simmons BBC –
The USB flash drive is one of the most simple, everyday pieces of technology that many people take for granted.
Now it's being eyed as a possible solution to bridging the digital divide, by two colourful entrepreneurs behind the start-up Keepod.
Nissan Bahar and Franky Imbesi aim to combat the lack of access to computers by providing what amounts to an operating-system-on-a-stick.

In six weeks, their idea managed to raise more than $40,000 (£23,750) on fundraising site Indiegogo, providing the cash to begin a campaign to offer low-cost computing to the two-thirds of the globe's population that currently has little or no access.
The test bed for the project is the slums of Nairobi in Kenya.
The typical income for the half a million people in the city's Mathare district is about $2 (£1.20) a day.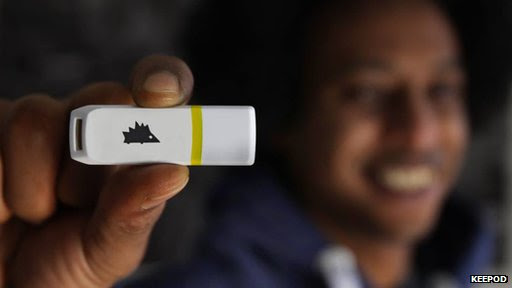 Keepod is Hebrew for the word hedgehog. It is also a play on words, as it joins the English word "keep" with the Hebrew word "od", meaning "everything".
Very few people here use a computer or have access to the net.
But Mr Bahar and Mr Imbesi want to change that with their Keepod USB stick.
It will allow old, discarded and potentially non-functional PCs to be revived, while allowing each user to have ownership of their own "personal computer" experience — with their chosen desktop layout, programs and data — at a fraction of the cost of providing a unique laptop, tablet or other machine to each person.
In addition, the project avoids a problem experienced by some other recycled PC schemes that resulted in machines becoming "clogged up" and running at a snail's pace after multiple users had saved different things to a single hard drive.
The two men hope to get up to 150,000 people signed up to their idea in the country.
Day One
To do so, the pair have teamed up with LiveInSlums — a non-governmental organisation operating in Mathare — to introduce the flash drives to students and staff at WhyNot Academy.
Like other schools in East Africa, the school uses text books and chalk boards to teach.
Two years ago it was connected to the electricity supply.
During a visit to the school in March, Mr Bahar and Mr Imbesi decided to buy a router and a Sim card to hook the classrooms up to the internet.
Their solution involved hanging the router in a carrier bag nailed …read more
Source: Israpundit