By Rochelle Miller
Chances are you attended one of Ashley Blaker's performances of Strictly Unorthodox during its five-week off-Broadway run. If so, you can attest to why his shows sell out as well as why he has garnered accolades from both the secular and Jewish media. With his black hat, white shirt, black pants, and beard, he hardly fits the image of an internationally acclaimed comedian. But to the contrary, the world-class performer has had three stellar UK tours and also performed in the U.S., Israel, Australia, South Africa, and Canada.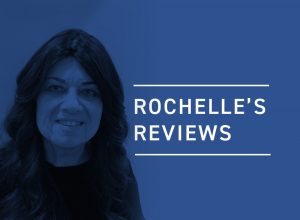 Happily, the British are coming! We mean Ashley, who will be returning to New York with a fresh and exciting new show in 2020. Come see Ashley in "Goy Friendly" from February 3 through February 23 at the prestigious SoHo Playhouse and experience the comedic brilliance of this world-class performer. Setting the bar in quality comedy entertainment, he has received high praise from critics the world over. Consider the following:
The New York Times called Strictly Unorthodox "a slickly funny stand-up show."
"Imagine John Oliver in a yarmulke," wrote the New York Post.
"A special vein of comic material," commented the Financial Times.
According to the Jerusalem Post, "Blaker has audiences rolling on the floor."
In August 2018, Ashley made his debut at the Edinburgh Festival Fringe with a sold-out run of his show Observant Jew.
In May 2019, he began a sold-out run of his new show "Prophet Sharing" alongside Muslim comedian Imran Yusuf. He is the first Orthodox Jewish comedian to be given his own BBC Show, Ashley Blaker's "Goyish Guide to Judaism," which returned in October 2019 to rave reviews.
He also appeared on the PBS News Hour, CBS, Fox News, and in newspapers all over the world.
Last month, Ashley also produced the triumphant return of the comedy phenomenon Little Britain following a 12-year hiatus. As an award-winning comedy writer, he has worked with a who's who of British comedy.
Ashley offers kosher, non-offensive entertainment to Jews and gentiles, frum and secular alike, rising to the challenge with ease. How does he craft his material to perfection and captivate his audiences each time he takes center stage?
"Someone once asked me 'Am I going to like the show? Is it kosher?' I don't advertise my show as being 100% kosher. Sometimes a newspaper will advertise me like that, but I never said that. Every person has his own standard of what is appropriate for him. I perform a show that I would not be ashamed for my rav to see, but I'm sure there will always be people who feel I pushed it too far. Comedy in frum circles is all about knowing the fine line and having good judgment."
He adds, "I never tell a joke that I couldn't go on radio or TV and justify. I am very meticulous about what I say. The most rewarding aspect of what I do, besides for making people laugh, is that I get people thinking. The gold standard in comedy is to talk about something in a way that when the audience hears it, they'll never see things the same way."
He adds, "Comedy is very powerful. I enjoy hearing people quote back to me things they've heard me say." So powerful is the impact of some of Ashley's routines that rabbis have referred to them in their derashot, for which he is deeply honored.
For Ashley, who holds degrees from both Oxford and Cambridge Universities, performing standup comedy represents a lifelong dream brought to fruition. Raised in a traditional home in the UK, he attended the same private school as Sacha Baron Cohen. Already as a teenager he harbored dreams of being a comedy performer, and honed his talents by performing in comedy clubs as well as doing 40-minute skits in the school lunchroom. Additionally, he appeared on TV several times, competing as a contestant on game shows. Despite his comedic talents and media visibility, it would take many years for Ashley's aspiration of becoming a comedian to materialize.
Ask Ashley to tell you the source of the "big break" in his career and he will respond without hesitation. "It's all a matter of hashgachah pratis," he declares. "I had finished studying and was unsure of what to do next. One of my professors suggested that I buy The Guardian, which is a newspaper I had never read. This was on a Thursday; four days later, while perusing the paper, I found an advertisement, 'Do you have funny bones?' seeking a comedy producer for the BBC. Not only had I not read the paper prior to that week — it was the only week the advertisement had been placed."
But the element of hashgachah pratis did not end there. After not seeing one another for several years, Ashley chanced upon an old school chum, Matt Lucas, a rising star in the comedy industry, one week prior. "Let's make a show together," they decided. After responding to the ad, Ashley was hired by BBC. Working in tandem, the dynamic duo impacted the industry with their respective talents, producing the wildly successful Little Britain. Ashley became a successful writer and producer on many hit comedy shows in the UK, working with comedians such as James Corden, Russell Brand, and John Oliver.
What inspired the sought-after producer and writer to embrace the lifestyle and attire of a chareidi Jew?
"After my wife and I were married, we were given a free membership to the synagogue closest to our house, which is offered to all newlywed Jewish couples in England." The shul happened to be Orthodox and Ashley felt comfortable attending services within its warm and welcoming environs and friendly rabbi. Responding positively whenever he was needed for a minyan, Ashley soon became an integral part of the shul, growing in his Torah observance with each day.
At the outset, Ashley's growing observance was disconcerting to some of his colleagues in the entertainment industry. Initially, upon noticing the kippah atop his head, some inquired whether it was a Jewish holiday. "It was a gradual thing," he recalls. "One day, I came in wearing my kippah. Several months later, I turned up with my tzitzis hanging out. Then came the white and black clothes, followed by the hat and the peiyos growing longer. There was something new happening almost every day."
Ashley credits becoming frum as the reason for his success as a comedy performer. "From age 16, my dream was to be a comedian and I had never given up that dream. "One day, I received a call from a rabbi who invited me to speak at a melaveh malkah," he recalls. "I asked him why he was interested in having me speak, since I am not a rabbi. The rabbi replied, 'The people will be interested in what you have to say. You work at the BBC with all the big stars. You have a beard and peiyos. You wear your tzitzis out and you wear a black hat. You don't shake hands with women.'" Despite Ashley's initial apprehension, the rabbi felt the audience would be inspired by hearing about how it is possible to remain steadfast to one's beliefs amid success in the secular world. "I accepted the rabbi's invitation and spoke at the melaveh malkah and enjoyed the experience immensely. It went very well. I discovered it was like something I hadn't tasted in a long time and I got 'hooked' right back in. I realized that it was hashgachah pratis—that I had to become frum to start performing again. As a 16-year-old, I really didn't have a defined, proper subject to talk about. That all changed when I became frum; the experience gave me something to talk about."
Since 2018, the prolific performer/producer/writer has had his own show on the BBC, called Ashley Blaker's Goyish Guide to Judaism, which has been recommissioned and shown this spring. He also has his own production company, Black Hat Productions.
From the moment he takes center stage at each performance, Ashley forms an instant bond with his audience, igniting a connection that maintains its power throughout the entire enchanted evening or matinee. With his charismatic stage presence, spot-on material, and impeccable timing, each performance is pure gold.
Like a diamond, Ashley Blaker's essence is multifaceted, infusing lives with light and hope and inspiring others through exemplary chesed. Truly an extraordinary couple, Ashley and his wife are the proud parents of six beautiful children, two of whom are autistic. They adopted their adorable little girl, who has Down syndrome.
Unpretentious and gracious, he is humbled by his success and never fails to express his appreciation to Hashem. For Ashley, the most rewarding aspect of performing is his ability to bring people together through the message of his comedy.
He is constantly raising the bar and seeking new vistas to explore, which is precisely how the concept of Goy Friendly was born.
Following the tremendous success of Strictly Unorthodox, Ashley felt he wanted to create a new show that would feature material that would unite audiences not just from diverse Jewish backgrounds, but from different ethnicities as well.
"My goal with "Goy Friendly" is to create a show where Reuven from the Five Towns or Flatbush will 'get' the material and laugh as quickly as Terry from Bensonhurst or Kevin from Park Slope."
And Ashley is keen for readers to get involved with helping make this show a reality. "Just in case you didn't know, the cost of producing a show in New York is huge, so I'm asking you for help in covering the up-front costs," Ashley shared. "My first show in New York cost around $115,000, the vast majority of which is needed in advance to pay for the theater, promotion, PR, and staffing."
As an incentive, Ashley is offering readers the chance to have their name in the Playbill or on the poster, or even to secure a performance from Ashley at a knocked-down rate for their organization.
Ashley explains, "My shows are about Jewish life — its beauty, its intricacies, and absurdities. They are about what divides us and, most importantly, what unites us to each other and to the entire world. Comedy has the power to both entertain and make us think. It can also unite people because when we laugh together, there's nothing like it. "Goy Friendly" isn't just a set in a comedy club that makes you laugh for 20 minutes before forgetting it. I hope my show will stay with you and resonate long after, as the best art should do."
He goes on, "The Jewish people are very good at dividing ourselves into groups. That's why it's been an amazing honor for me to meet so many wonderful people from such diverse communities. I love performing and making audiences laugh. But most of all, it's such a thrill to bring people together, especially those who wouldn't otherwise sit side by side."
He tells the story of one extraordinary show. "I once performed in Newcastle and I had the white shirt and black suit clad men from Gateshead sitting next to a female Reform rabbi. I genuinely can't think of any other occasion such individuals would be under the same roof."
However, Ashley needs your help. "Humor can bring us together and my last Off-Broadway show attracted all kinds of Jews. Now I need your help to take it to the next level. With rising antisemitism, there's never been a more important time to demystify Judaism to the outside world. And it's a world that's wonderfully open to listen. Three-quarters of my audience in Edinburgh weren't Jewish and my BBC Radio 4 Show is broadcast to a country of 66 million people of whom less than 0.4% are Jewish. And, of course, I've recently toured the UK with my Muslim friend Imran Yusuf, uniting Jews, Muslims, and people of other faiths (and none at all) with our show Prophet Sharing. It has been the most remarkably uplifting experience. People have said they've left my show walking taller and feeling prouder to be a Jew, and when I hear that it is truly humbling. Maybe you aren't Jewish and, like many of the Muslims who've seen me perform, you'll realize we aren't that different than everyone else."
Ashley has a message for the readers. "If you've ever come to a show and enjoyed it, if you've ever read a post and laughed, if you appreciate what I am trying to do — please give what you can. This is a chance to become a co-producer with me and bring this show to the largest possible audience in New York and beyond."
To purchase tickets for "Goy Friendly" or for Crowdfunder sponsorship opportunities and reward options, please visit ashleyblaker.com.
Rochelle Maruch Miller is a contributing editor for the Five Towns Jewish Times. She is a journalist, creative media consultant, lecturer, and educator, and writes for magazines, newspapers, websites, and private clients. She welcomes your comments at Rochellemiller04@aol.com.