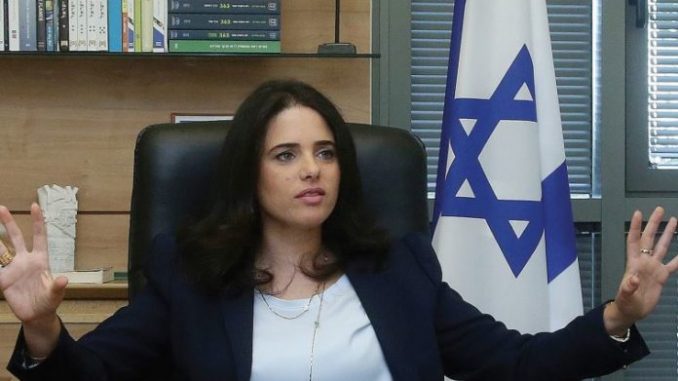 For now Justice Minister Ayelet Shaked is paired with Habayit Hayehudi party leader Naftali Bennett. But when the right moment comes, she'll be No. 1 and a candidate for prime minister
By Carolina Landsmann, HAARETZ
With the generosity of a hangman, Justice Minister Ayelet Shaked appeared in Ynet's studio this week and told all the heretics, those waiting with bated breath for the fall of Prime Minister Benjamin Netanyahu, that he isn't obligated to resign if he's indicted.
This was Shaked at her best. "Let's wait and see what happens," she said, with considerable relish. "First, by law, the prime minister doesn't have to resign." After all, she wasn't there to say anything good about Netanyahu. He needn't resign not because he isn't guilty, but because the law doesn't require him to do so. Look how much Shaked respects the law.
At a time when Finance Minister Moshe Kahlon is using his ministry's budget to publicize his own achievements and reap political capital, Shaked is building a record of action as justice minister and gaining assets without calling attention to them. She's working for the long term, not for momentary popularity. If it were Kahlon who had reregistered 180,000 dunams expropriated in the Negev as state land, it would long since have been publicized on ever possibly platform in the Negev: Look what I've given you. But that's not Shaked's style.
Shaked is very well-mannered. With each interview, she becomes more restrained, clearer and sharper. She never raises her voice, doesn't get drawn into provocations, maintains a metallically precise enunciation and the coolness of a fighter pilot. She doesn't babble, doesn't applaud and doesn't wave the Israeli flag.
A few months ago, a poll commissioned by activists in her Habayit Hayehudi party showed that if Shaked headed the party instead of current leader Naftali Bennett, it would win three more seats in the next elections. Did Shaked head to the television studios to boast? On the contrary. At a conference of the Or Yarok traffic safety organization, which took place shortly after the poll's results were published, she told Israelis that just as there are restrictions on passing on the road, you don't pass others in politics: "After the Netanyahu era, Bennett must be prime minister."
No wonder that in an interview with the newspaper Makor Rishon last week, Bennett stressed how proud he was of Shaked and her "spectacular growth." When asked if he plans to defect to the ruling Likud party to expand his base of support, he said he would remain in Habayit Hayehudi. Shaked, in contrast, told interviewers who wondered where she and Bennett were headed, that "we're certainly in the party, developing it, growing it."
Were Shaked not a computer engineer, there would be no reason to pause over her choice of words. But she has absolute control over her words. She's already willing to reveal her ambitions: She's not former Likud party minister Limor Livnat; she's a leader and sees herself as such. At the moment, she's paired with Bennett. But …read more
Source:: Israpundit