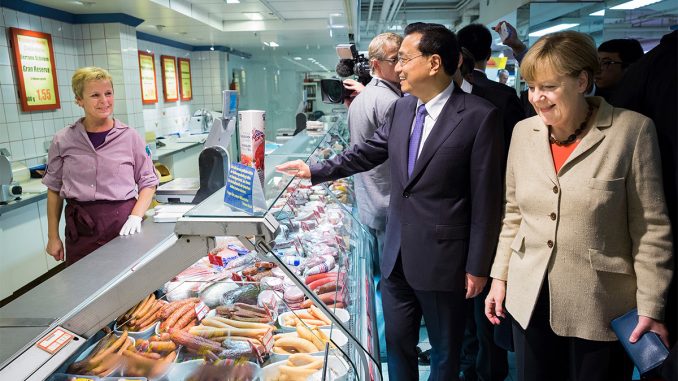 BESA Center Perspectives Paper No. 496, June 13, 2017
Bundeskanzlerin Angela Merkel und der chinesische Ministerpräsident Li Keqiang gehen im Rahmen der Deutsch-Chinesischen Regierungskonsultationen in Berlin in einem Supermarkt einkaufen.
EXECUTIVE SUMMARY:The German Chancellor's daily routine has been attracting wide attention of late. Angela Merkel met recently with US President Donald Trump, followed by meetings with Indian Prime Minister Narendra Modi and Chinese Prime Minister Li Keqiang. Merkel expressed some of her colleagues' thoughts after meeting Trump by saying, "Europe can no longer completely rely on its longstanding US alliance". The timing of the Chinese visit, shortly after Trump's visit, was not coincidental. China has a vision of joining forces with Europe to counterbalance the US, and President Trump's reception in Europe made this vision more plausible.
US President Donald Trump's visit to EU headquarters in Brussels on May 24-25, 2017 caused major discomfort among members of the Union. German Chancellor Angela Merkel, the strongest leader in the EU, spoke for several of her colleagues when she said, "Europe can no longer completely rely on its longstanding US alliance."
Merkel's words caused a firestorm. Until recently, the strength of the transatlantic alliance had been largely taken for granted. Trump's declaration that the US will not endorse the Paris climate treaty, signed in 2015, unless changes are made further destabilized US relations with Europe.
Indian Prime Minister Narendra Modi visited Germany a few days after Trump's departure. (Modi's visit was planned prior to Trump's, so it should not be viewed as having been coordinated to strengthen Indian relations at the expense of US relations.) Modi and Merkel discussed several geopolitical issues, but their main focus was on economics and cooperation.
The tightening of relations between these two powers makes sense. Economic relations between India, the second-largest country in the world, and Germany, the strongest economy in Europe, are very limited. Both countries could benefit from a stronger relationship. After the visit, Merkel's spokesperson announced that "the Indian prime minister is a partner who can be counted on" — language that might be interpreted as containing a pointed reference to the less satisfactory meeting with Trump.
The Chinese visit, which began the next day and lasted for two days (May 30-31), was one of a series of meetings that have been held annually by the two countries' leaders since 2004. China has vast economic relations with Europe, and with Germany in particular — about a third of EU exports to China come from Germany. It appears that the timing of this visit, shortly after that of Trump, was not coincidental. In the meeting between Li and Merkel, they discussed the crisis in North Korea and the tightening of relations between China and Germany. This seems particularly important to the Chinese side, as both President Xi Jinping and Prime Minister Li have visited Germany recently.
After his visit to Germany, Li attended the 12th China-Europe business summit, at which he met with President of the European Council Donald Tusk and President of the European Commission Jean-Claude Juncker.
This meeting frenzy might represent …read more
Source:: Israpundit