Sheldon and Miriam Adelson. Photo: Wikimedia Commons. JNS.org – On the eve of Israel's 70th anniversary, Dr. Miriam and Sheldon Adelson surprised the audience at the 18th annual Birthright...
https://youtu.be/J_nXBXuh5sY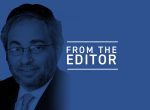 Next week, more than 1,200 people will travel from around the United States to Washington, D.C. to meet with elected officials and to emphasize...