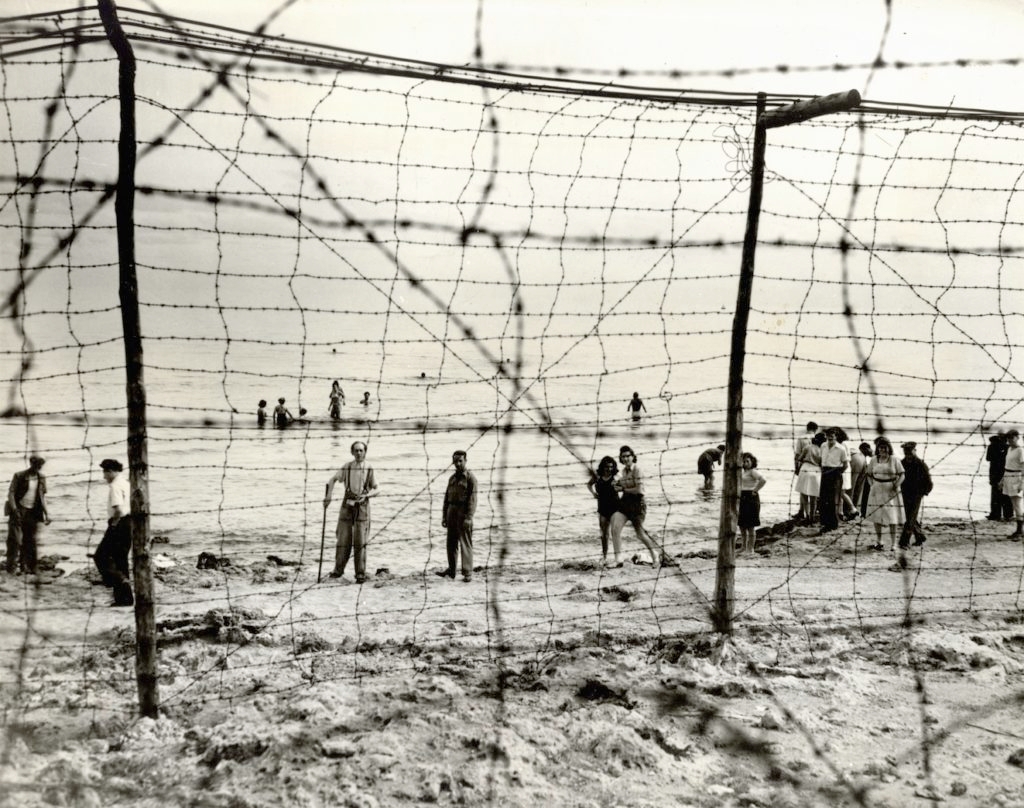 A group of Jewish refugees in a British detention camp in Cyprus swim in the Mediterranean Sea behind a barbed wire fence that surrounds the camp, 1946. The refugees were permitted use of the beach from 10 a.m. to 5 p.m. daily. (Courtesy JDC Archives)
Destroying Hamas' extensive and sophisticated network of tunnels has become the primary focus of the Israel Defense Forces' operation in Gaza. In the 1940s, however, Jews were digging their own tunnels in order to enter Israel.
In August 1948, British engineers blew up a Jewish-built tunnel in colonial Cyprus. The underground corridor was designed not for terror attacks but to facilitate immigration to Israel. While the Cyprus tunnel did not, of course, lead all the way to the newly declared State of Israel, it was the first leg of a journey, followed by an under-cover-of-night voyage:
The tunnel—30 yards long and two feet wide—had been completed only two days before it was discovered last week, It ran under the barbed wire surrounding one camp to a point well beyond the guard perimeter. The detainees had wired the tunnel with electric light with current obtained from a searchlight tower, British authorities believe that it took the Jews six months to dig the tunnel. Twenty-nine refugees were sentenced to various terms of imprisonment, ranging up to nine months, when the passage was discovered last week.
It was reliably estimated here today that at least 100 Jewish detainees succeeded in escaping from Cyprus last week. British officials on the island voiced the opinion that Jewish representatives outside the camps, stationed in Cyprus, but who are in radio contact with Israel, are attempting to help "selected male specialists among the refugees" to escape on small boats which are brought near the Cyprus coast at night.
Men and women washing their clothing on laundry day at camp 60 in Cyprus, December 1946. (Courtesy JDC Archives)
You might think the Cyprus detention camps, which housed tens of thousands of Holocaust survivors and other Jewish refugees the British had barred from entering Palestine, would have already closed by August 1948, which was a full three months after the British Mandate ended and the State of Israel was declared. However, the British – who did not want to alienate the Arabs by helping supply Israel with soldiers for its ongoing War of Independence — continued to intern and guard thousands of military-age Jewish men until January 1949.
Although only military-age men were being forced to stay, many women and children stayed as well in order to avoid dividing the family. As JTA noted in August:
Last week the one hundredth Jewish baby was born on Cyprus and many more are due soon. Many expectant mothers refuse to go to the hospital until the last minute, hoping that the baby will be born in Israel.
Source: JTA