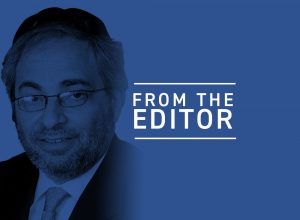 We were on the move just about all day long. We were in Albany for a day last week with Teach NYS, a subdivision of the Orthodox Union. Buses to Albany from throughout the metropolitan area descended on the New York State capital to lobby for private schools' fair share of the enormous New York education budget.
This was more than just a group or two of interested entities or representatives of Jewish institutions. We were 700 people strong, fanning out around the Capitol, meeting with our elected officials and stating our case about our community's perception about what is fair and right on the fiscal educational front.
There is nothing else that is comparable to showing up in Albany or in Washington, DC to make your feelings and opinions known to elected officials on a number of issues that are important to our communities. Many of us are accustomed to the idea of traveling to Washington, DC with NORPAC or AIPAC as a way of demonstrating our support and to promote the currently excellent U.S.–Israel relationship.
But last Tuesday's trip to Albany was about our children's rights as students. The Jewish community is in the throes of a tuition crisis and has been for a long while. The only difference today is that the situation is becoming more critical each passing year.
For many decades, the objective was to maintain a distance between yeshivas, other religious schools, and government along the lines of the strict policy that kept religion and state apart. Lately, the movement on this issue has been in the opposite direction.
Simply stated, there is a great deal more going on in our yeshivas than just religious instruction and education. Most of our schools excel in the general and secular education they are dispensing to students. And if that is the case, what is the difference, in reality, between yeshiva or other private-school students and those who attend New York State public schools?
As OU Executive Director Allen Fagin said in his address to the assembly, the fact that 15% of students in New York attend private schools and that only 1% of the state budget is earmarked for those schools is an issue that had to be addressed, and that is what we were doing in the state capital last week.
And after a day that included walking several miles indoors, inside the cavernous Capitol building, and traversing our way a handful of times through the building's thorough security apparatus, it looks like our message was heard loud and clear.
By way of background, it is important to note that New York State features a $175 billion budget, and Teach NYS is lobbying and working with state officials to see to it that our yeshivas receive a more equitable share of the educational funding in that budget.
Over the last many years, state aid for yeshivas has increased beyond the usually funded items, which includes busing to and from school and books for students. Unfortunately, as schools became more vulnerable over the years, and security and safety of the school population has become an issue, there have been consistent increases in both federal and state security funding for all schools including, of course, our yeshivas.
In retrospect, though we had to board our buses at 6:00 a.m. for the ride up north, it was a great learning experience on the matter of how our government works. Central to this dynamic is the impact and substantive influence that our physical presence in the offices of government officials has on the issues of direct interest to our communities.
Teach NYS leadership met the day before the trip to Albany with Governor Cuomo and then on the day of the mission they met with Assembly Speaker Carl Heastie. The thing about government is that if you want to get your elected officials to move on matters of importance, there is nothing more vital than being there and expressing yourself in person to these officials.
The elected representatives themselves confirm this reality. State Senator Todd Kaminsky, who represents parts of the Five Towns in his district, repeated a popular quote to those assembled. "If you're not at the table, then you are on the menu." Senator Kaminsky has 19 yeshivas in his district, and his services and concerns about these and other institutions are exemplary.
Another impressive senator was Senator Anna Kaplan of the Great Neck area of Long Island. Kaplan, a Democrat, won her election last year against incumbent Elaine Phillips. The Kaplan victory was another piece in the political puzzle that completed the move of the Senate control to the Democrats after many years by Republicans.
Anna Monahemi Kaplan was born in Tabriz, Iran. She arrived in the United States without her parents, right as the Islamic Revolution hit 40 years ago. She was 13 years old. I had not heard her speak previously and at the Teach NYS Mission, she said that her parents sent her to the U.S. as a child at the direction of the Lubavitcher Rebbe.
Ms. Kaplan lived with a family in Crown Heights when she first arrived. When her parents immigrated, she moved with them to Queens and then eventually to Great Neck. She attended Stern College for Women and then Cardozo Law School, both divisions of Yeshiva University.
Senator Kaplan said that, considering her background, she is uniquely suited to understand and advocate for state education support of private-school education—in this case, yeshivas.
Later in the day, I had a chance to sit and talk with Allen Fagin of the OU and Maury Litwack of Teach NYS. They are focused on representing their broad range of constituents, many of whom struggle each year to meet their tuition obligations to the schools their children attend.
Aside from the matter of funding for security in our schools, Teach NYS has had some success in securing funding for yeshivas for the STEM curriculum in our schools.
As to why the state government should specifically fund STEM as opposed to English, history, or any other number of subjects, Mr. Fagin explains that it is in the state's best interest to educate students in these areas because that is precisely where the greatest opportunities for future employment are located.
The approach is prudent and certainly makes a lot of sense. We need to keep our collective eyes on the prize. After Medicaid, education is New York State's largest expenditure. As residents of the state, and with the need to efficiently educate our children to become good and productive citizens, the fact that they attend yeshivas or other private schools should not stand in the way of funding their education on an equitable basis with students in other schools in this and other states around the country.
The pressure on government, however, to dole out funding is immense. That is why it was so urgent to be there in person, to sit and exchange ideas face to face with our elected officials, seek increased funding for our yeshivas, and not accept "no" or "not now" as an answer.
Read more of Larry Gordon's articles. Follow 5 Towns Jewish Times on Facebook, Instagram, and Twitter for updates and live videos. Comments, questions, and suggestions are welcome at 5TJT.com and on Facebook, Instagram, and Twitter.