By Larry Gordon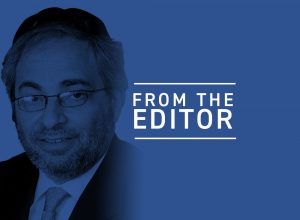 This week in Israel we were traveling with the newly selected chairman of the New York State Republican Party, Nick Langworthy, his adviser on Jewish issues, Michael Fragin, former governor Mike Huckabee, and Dr. Joe Frager, who led the delegation.
Republicans in New York are not in good electoral shape. The fact that Democrats took over the majority in the House in 2018 has caused only problems for the country in general and for the Trump agenda specifically. Then there is the wide Democratic majority in the New York State Senate which is transforming the New York we always knew.
It has been the position of the 5 Towns Jewish Times for a long time that every candidate for elected office here in New York, regardless of the level of service, is required to have a foreign policy position to some extent.
After becoming the chairman of the NYS Republicans, Mr. Langworthy's first order of business was to travel to Israel for a few days as a way to inaugurate his tenure as a New York political leader.
Also accompanying him on the trip is New York State Assemblywoman Nicole Malliotakis, who is challenging first-term incumbent Democratic Congressman Max Rose in 2020. It is important for our community to understand that while Mr. Rose is Jewish, he is hopelessly liberal and simply does not effectively represent the issues that are highest on our communal agenda.
Along with Ms. Malliotakis in Israel with us is former Congresswoman Claudia Tenney. She served one two-year term in the House and back in 2016 was endorsed by President Trump who traveled to her upstate district in Utica, New York, to endorse her. She is running  again in 2020.
As Nick Langworthy pointed out at dinner the other night, he is here because as chairman of NYS Republicans, he is representing a state with the largest population of Jewish residents outside of Israel. From that perspective alone it makes sense that the first thing he does in his new role is travel here to Jerusalem. Israel is an issue that, as you have seen this week, never escapes the limelight.
Just the other day, as President Trump was rightfully excoriating the "Squad" for their anti-Americanism, he also made sure to point out that the four Congresswomen were also anti-Israel. Another way to say it is that Israel is at the core of the dispute between the president and some of his most prominent critics. It's a big world out there with myriad matters that need to be regularly dealt with. But regardless of events or crises in other areas of the globe, there is always room for something about Israel.
There are still 16 months to go until the next momentous election, but it seems that the campaign periods leading up to these important elections are getting longer. Is it that there are so many more issues that need to be aired over a longer period of time, or is it just a profitable way for TV news to attract viewers and attention? I vote for the latter.
On Tuesday, Max Rose, the Staten Island incumbent, unloaded to Jewish Insider about Ms. Malliotakis criticizing him while in Israel and also questioning his refusal to criticize one of the "Squad" — Congresswoman Ilhan Omar — when she was bitingly critical of Israel and referred derogatorily to Jews.
Max Rose believes he gets a free pass on anything to do with Israel or Jews because he is Jewish. We all know that is very poor reasoning. Israel traditionally has big tzaros from people like Mr. Rose. Nicole Malliotakis is here in Israel this week and she gets it.
The Republican campaign in a sense begins here in Israel this week. First-time candidate Josh Eisen is here. He is seriously considering a run against longtime incumbent and Democrat Nita Lowy. The Republicans in New York seem to be ready to make a serious push. If Claudia, Josh, and Nicole can get into the next Congress, and President Trump wins reelection, big things can happen.
Gaza Junior
It looks like the Gaza Strip and feels like it, too. It's about 15 miles from Gaza and just about everyone stationed there is ready. This is a city designed by the IDF military planners and constructed with life-size stone structures to exact specifications as the inner city of the Casbah in Gaza.
The brilliant idea behind the construction is for IDF units to familiarize themselves with the intricacies of the construction and layout of the most densely populated areas of Gaza should an invasion become necessary.
Israel has always been at a disadvantage when it sends ground troops into Gaza. The terror merchants who run Gaza use the civilian population as human shields, protecting the terrorists from the IDF and also to immediately protest that the Israeli army is attacking a civilian population.
That devious strategic tactic aside, and while there are many interesting and new things to see up and down the length and breadth of Israel, you can rest assured that you have never seen anything like this. It is also important to point out that this imitation Gaza City is not open to the public. Dr. Joe Frager says he has spent three years trying to get his group into this area.
This is a closed military zone, and special permission is required to gain entry. In addition, you need security clearance to get in here, and while that is a bit of a hassle, it is still fascinating and well worth it.
The commander was very friendly and accommodating. He asked that we not photograph some of the things, so let me describe what we saw and experienced.
I have not been in Gaza for a very long time, but there was a time back in the 1980s when a trip to the Gaza Strip while visiting Israel was a routine matter. It was only after Ariel Sharon evacuated Jewish settlements from Gaza and extricated all Jews from their homes that Gaza became a dangerous and violent place.
At first we walked through the terrain that is set up to resemble the Casbah. Stone structures about five floors each are built very close to one another with narrow passages between them. This is not because there is overcrowding or a housing shortage in Gaza but rather a military strategy by the terrorists to inflict as much death, pain, and suffering as possible if IDF forces have to enter. We were advised of some new military tactics that have been created so as to minimize risk to IDF soldiers. I cannot go into details, but rest assured they are quite interesting and creative.
We climbed about five floors to the roof of one of the buildings from where we could see over the entire reconstructed city. Of course, the real Gaza is bigger than this, but this one is constructed to scale and effectively used by troops of all divisions to run drills simulating potential real battles.
Inside one of the homes, the base commander uncovered a part of a wall that exposed a hole that leads to an underground tunnel. We all climbed into the tunnel, heads bent, walking briskly through the well-constructed tunnel with various rooms and juts here and there as we proceeded along the way.
The idea here is preparation for the next war, which the experts say is inevitable. We observed a simulated battle to enter a home, search for bombshells with dogs, and then enter the building to disarm or neutralize the occupants.
The base commander told us that U.S. forces have trained here because the setup is similar to cities in Afghanistan. A host of other countries uses the facility to prepare troops for urban warfare in various locations around the world.
I don't know if the area will be open to the public anytime soon. You know how it works in Israel — you have to know somebody.