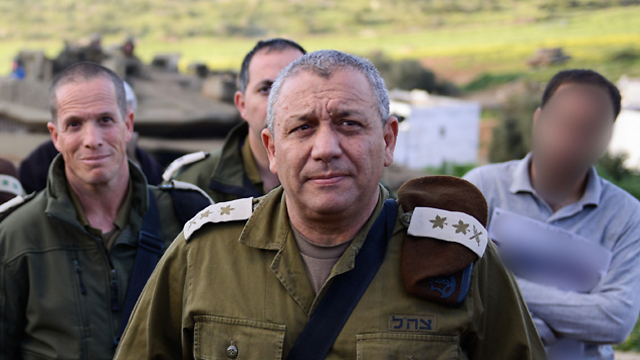 Analysis: In releasing the IDF's grand strategy, the chief of staff has pushed the political leadership into a corner, while circumventing any weight held by the Locker report.
Alex Fishman, YNET
Chief of Staff Eisenkot (Photo: IDF spokesperson)
IDF Chief of Staff Gadi Eisenkot pulled off a brilliant maneuver this weekend, by allowing the publication of a document which detailed the IDF's strategic doctrine. In this act, he forced the government into accepting a national security strategy as the IDF sees it — including what threats Israel faces, and the planned responses to those threats.
The title of the document, "The IDF's Strategy" is in itself a slight, as the political leadership is the authority which dictates national security strategy, not the army. But this is where Eisenkot's experience in dealing with the political echelon comes to play, and in his own way the chief of staff forced the leadership to accept the strategy he believes in. From here on out, no one can claim that the IDF makes up threats and then builds up unrealistic responses to them. The IDF received a de-facto green light to pursue its strategic vision the moment the document was approved by the prime minister and the defense minister.
Eisenkot released the report to the public on a symbolic occasion, exactly six months after he took the post of chief of staff, although it's doubtful that the timing of the release was planned. The impetus for releasing the report seems to have been the publication of the Locker Committee's report. The negative reactions to the report within the army ranks seemed to raise the question of possible alternatives. Eisenkot provided the answer with a thoroughly planned strategy dealing with the security threats facing Israel, with special importance being placed on the IDF's "shock and awe" doctrine for the northern front. The capabilities being developed for this doctrine will serve the IDF on all of its fronts.
There are at least two irritating elements in the document. The first involves the use of the word "victory," a literary-political term, which leaves no room for doubt. The second is the fact that the document all but ignores the Iranian "existential threat" (except perhaps a statement highlighting the decrease in non-conventional threats facing Israel). This is specifically troublesome due to the fact that the prime minister banned any discussion of Israel coming to terms with the Iranian nuclear deal.
The document both clearly states, and also insinuates that: There is a security strategy, there is an operational concept from which the IDF draws its power structure, as well as its budget, now let us work. There is currently a window of opportunity to conduct a major upgrade to the military in an organized manner, as part of an organized process which will last four years, rather than conducting another patch job.
The military is currently forecasting quiet on the northern front: The Syrian army won't pose a threat for the next 5-10 years, Israel currently has strategic cooperation with Jordan and Egypt, Hamas may …read more
Source:: Israpundit