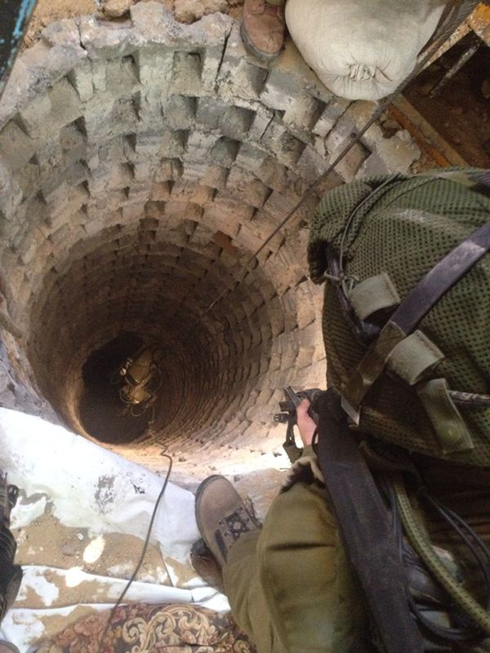 Senior IDF commanders contradict Netanyahu's claims, say military warned leadership of full extent of tunnel's threats way before current operation began; urge clearer orders for Gaza operation.
Yoav Zitun, Israel News
The IDF is demanding Israel's political leadership reach a decision regarding the next steps of the ground offensive in Gaza Strip.
Meanwhile a senior IDF commander told Ynet that the army had warned the government about the full extent of the threat posed by Gaza tunnels, contradicting claims made by Prime Minister Benjamin Netanyahu and Defense Minister Moshe Ya'alon.
IDF soldiers looking into a terror tunnel in Gaza (Photo: IDF Spokesperson's Unit)
The comments came amid a violent 24-hours which saw 10 IDF soldiers and numerous Palestinians killed. Earlier Tuesday, a number of target were hit in Gaza, including the home of its Hamas' leader Ismail Haniyeh and the Strip's main power station.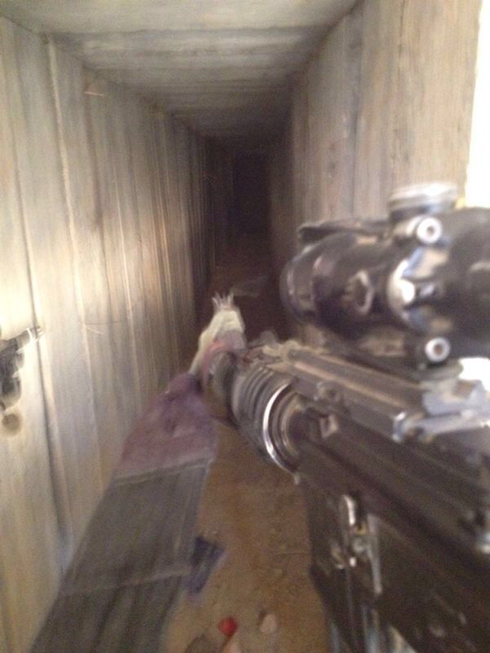 IDF soldier searching a terror tunnel in Gaza (Photo: IDF Spokesperson's Unit)
A high ranking military official spoke Tuesday with journalists about the next stages of the operation and said that "the political leadership must decided now — either we push deeper (into Gaza) or we backtrack."
Indicating tensions between the IDF and Israel's political leadership, the senior official said "our responsibility is to lead the offensive to where it needs to go, not to where the public wants. This is not reality TV and rating is not a factor."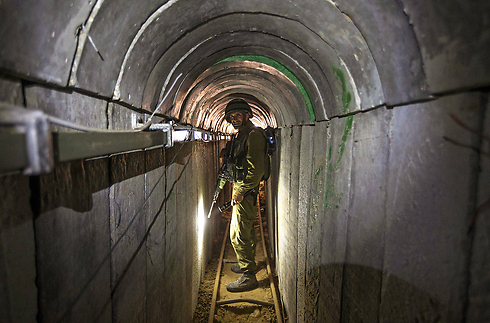 IDF soldiers inside a Gaza tunnel (Photo: EPA)
The top ranking official also sounded veiled criticism at government for choosing not to dub the operation a war, saying "regardless of what the political echelon calls it, for our soldiers this is a war."
As of the past week, tunnels have been at the heart of the IDF's offensive. However, it seems the operation's prize target might not be achieved and could even strain tensions between the military's top brass and political leadership.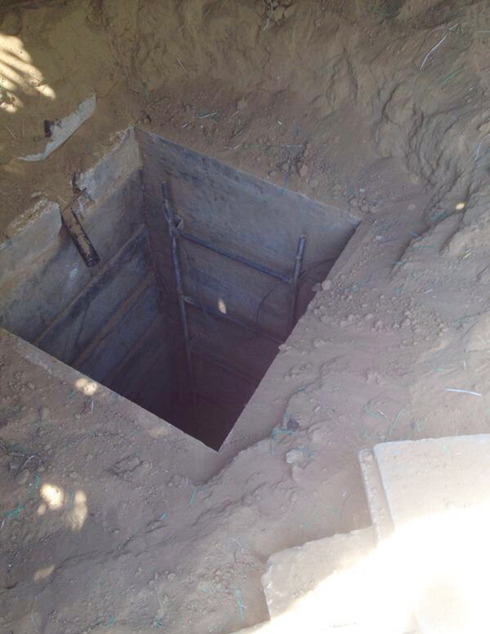 Entrance to a terror tunnel (Photo: IDF Spokesperson's Unit)
The senior official said that "by the end of the operation we won't be able to take out every tunnel and every pier. We are taking out their ability to use the tunnels. (In this regard) we were surprised to find out the deep connection between Hamas's leadership and the tunnels."
However, a senior official in the military who spoke to Ynet had even harsher things to say on the issue, claiming that in contradiction to claims made by Netanyahu and his defense minister, the army had always known the full extent of the tunnels and the threat they posed.
Source: Israpundit