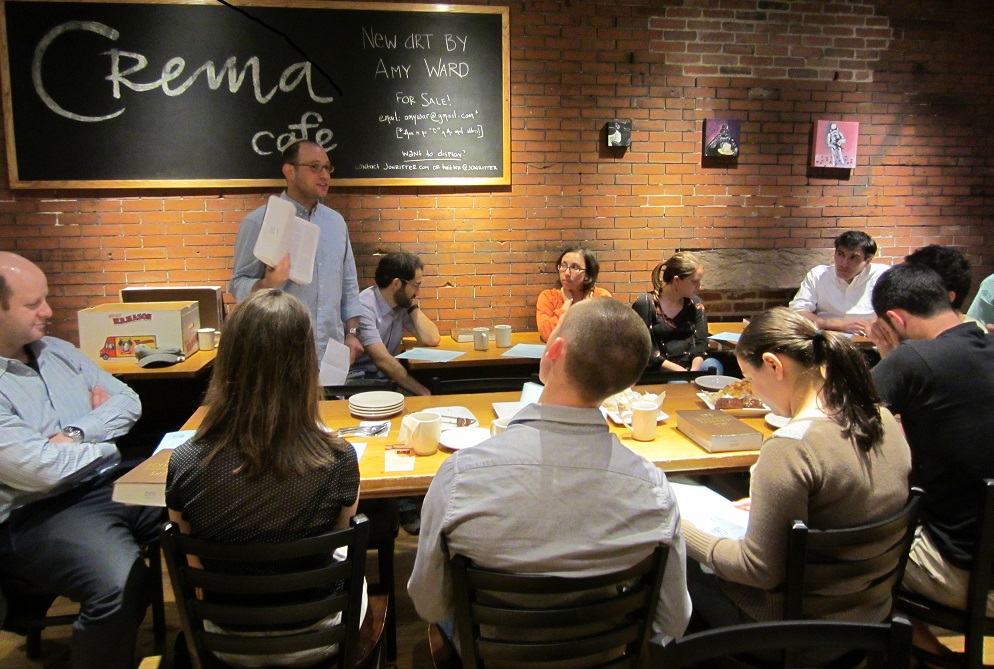 Rabbi Matthew Soffer, director of the Riverway Project, leads a Torah discussion at a Riverway Cafe gathering in Cambridge, Mass., May 2014. (Courtesy Riverway Project)
BOSTON (JTA) — One recent Tuesday evening, a group of about two dozen Jews in their 20s and 30s huddled around wooden tables poring over the text for the week's Torah portion.
A rabbi prodded them with questions about the petition that Zelophehad's daughters submitted to Moses to inherit their father's estate. Why do they petition at this juncture? Why does Moses refer the question to God?
Members of the group raised hands, offered theories, debated.
The learning session took place not in a synagogue study hall but at a bustling cafe in Harvard Square.
Welcome to Riverway Cafe, a program of Temple Israel of Boston to reach out to millennial Jews. The program is an outgrowth of the Riverway Project, which brings Jewish events to unconventional settings, like Shabbat services in bars.
At Dive Shabbat, a Friday night service held at the Lizard Lounge in Cambridge, packed crowds turn out for music, prayer and alcohol consumption, ritual and otherwise. Now 13 years old, Riverway recently held an "Open Bar Mitzvah" with bottles of specially brewed "beer mitzvah" beer.
"It was awesome," said Rabbi Matthew Soffer, Riverway's director. "There was a lot of surprise from people, like, 'Oh, that's Jewish? I thought it would be more awkward.' But that's what we're trying to do, to normalize spiritual life."
The Riverway Project is emblematic of Boston's burgeoning Jewish landscape for young Jews, the most sought-after demographic these days among those concerned about the Jewish future. In Boston, Jews in their 20s and 30s have become a major focus of Jewish programming: The area has more than 70 organizations are aimed at such Jews, according to the Boston Jewish federation, Combined Jewish Philanthropies.
"Young adults are an extremely high priority for us because we think that young adults are the opportunity for the future," said CJP President Barry Shrage. "If you're not thinking about the next generation, you might as well shoot yourself."
CJP offers start-up grants and fellowships to Jewish entrepreneurs. Hebrew College's Eser program organizes small study groups in apartments. Gin & Jews combines Jews and drinking with monthly bar nights and the occasional Red Sox game. For hikers and campers there are two Boston Jewish outdoors clubs. In a program called The MEM, young adults explore Jewish identity through art workshops.
Shrage says that when he started his job in 1987, outreach to young adults was low on his list of priorities.
"We didn't see much potential out there," he recalled.
The Riverway Project was among the first of Boston's unconventional programs to engage young Jews. Rabbi Jeremy Morrison of Temple Israel, which is Reform, started it in 2001 out of a belief that he needed to break outside synagogue walls and meet Jews where they were, physically and temperamentally, to engage them.
This kind of approach has become axiomatic, particularly in the Reform movement. Rabbi Rick Jacobs, president of the Union for Reform Judaism, has made …read more
Source: JTA