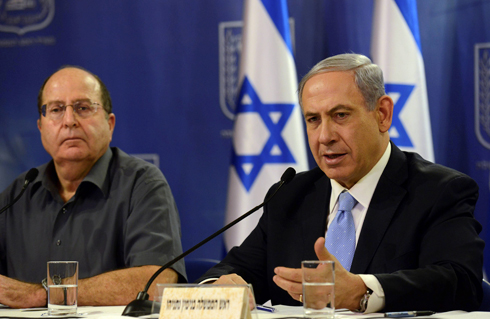 Security Cabinet votes in favor of UN humanitarian ceasefire after Hamas answers Israel's extended four-hour lull with rocket fire; Hamas: No deal if Israel does not remove forces, source: Calm in fighting means we can focus on dismantling Gaza tunnels.
Moran Azulay, YNET
Prime Minister Netanyahu has extended Saturday's ceasefire until midnight Sunday, despite the renewal of rocket fire by Hamas, which seriously wounded an Israeli.
Earlier Saturday, Israel agreed to extend a 12-hour ceasefire by four hours until midnight Saturday, even though Hamas and the Islamic Jihad refused to do so, firing rockets at Israel. Israeli tank fire killed a man in the southern Gaza Strip, a local official said.
Prime Minister Netayahu and Defense Minister Ya'alon (Photo: Haim Zach, GPO)
United Nations Special Coordinator for the Middle East Robert H. Serry called Israel and Hamas to agree to extend the ceasefire by 24 hours, and this was the offer the cabinet accepted.
Prime Minister Benjamin Netanyahu, Defense Minister Moshe Ya'alon, Finance Minister Yair Lapid, Justice Minister Tzipi Livni and Communication Minister Gilad Erdan voted in favor, while Foreign Minister Avigdor Lieberman, Economy Minister Naftali Bennett and Intiror Security Minister Yitzhak Aharonovich voted against the deal.
A senior political source close to the cabinet's proceedings said the IDF would respond to any attack during the break, and noted that "as fighting continues, work on destroying the tunnels slows down. The (ceasefire's) goals is to allow the pace of destruction of tunnels to increase while also securing international support."
One of the major stumbling blocks for the deal was the Israel's insistence that forces be allowed to remain in Gaza to continue to work to dismantle tunnels during the pause in fighting. The result from Saturday lull was that the IDF managed to unearth four new tunnels without suffering any casualties.
Thus, Erdan, who said he would vote against the extension, changed his mind and voted in favor instead, sources close to him said.
Hamas' spokesperson Sami Abu Zuhar said Hamas will not accept any ceasefire deal that does not include the removal of forces from Gaza: "Any humanitarian truce that doesn't include an IDF withdrawal from Gaza Strip and doesn't allow residents to return to their homes and evacuate wounded is unacceptable."
Kerry on Gaza ceasefire: Israel wants deal
Before the Security Cabinet convened at to discuss an extended ceasefire deal, ministers voted to extend the humanitarian break in fighting until at least midnight Saturday in a telephone ballot conducted before the meeting.
"There is no deal to extend the ceasefire by four hours," Sami Abu Zuhar, Hamas' spokesperson said after Israel announced it would respect the lull for four more hours.
Hamas' leader Ismail Haniyeh said Saturday that "the resistance stands strong. There isn't a force on the planet that can extort our people. We have decided to take our freedom and dignity and we won't back …read more
Source: Israpundit