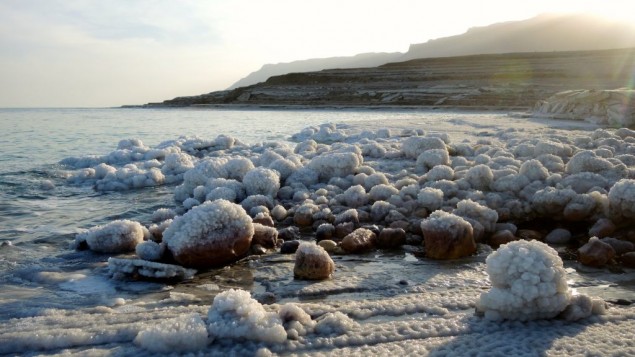 New desalination project is part of wider plan to run water through pipeline from Red Sea down to Dead Sea; US envoy Greenblatt hopes it's a 'harbinger of things to come'
By Raphael Ahren and Melanie Lidman>TOI
Israel and the Palestinian Authority on Thursday announced an agreement that will provide millions of cubic meters of drinking water to the Palestinians from a desalination process.
While the Palestinians made plain that the deal, brokered by US President Donald Trump's envoy Jason Greenblatt, has no impact on final-status issues in the Israeli-Palestinian peace process, Greenblatt hailed it as a "harbinger of things to come." At a joint press conference in Jerusalem, however, Greenblatt refused to take any questions regarding his bid to relaunch peace negotiations
The agreement announced Thursday is part of a larger trilateral agreement for the construction of a 220-kilometer (137-mile) pipeline transferring water from the Red Sea to the Dead Sea – the lowest body of water on earth – to benefit Israelis, Jordanians and Palestinians, and replenish the dwindling Dead Sea. As the water runs down the gradient it will be used to generate electricity that will also power a desalination plant to produce drinking water.
"As we all know, water is a precious commodity in the Middle East," Greenblatt said. "The US welcomes the agreement reached by the Palestinian Authority and the government of Israel, which will allow for the sale of 32 million cubic meters of water from Israel to the Palestinian Authority. In addition, we hope that the deal will contribute to the healing of the Dead Sea and that will help not only Palestinians and Israelis but Jordanians as well."
Trump has made it clear that reaching lasting peace agreement is a "top priority for him," Greenblatt added. "This agreement is an example of the parties working together to make a mutual beneficial deal," he said.
"I am proud of the role the US and international partners have played in helping the partners reach this deal land I hope it is a harbinger of things to come," Greenblatt said.
Salt-covered rocks on the shores of the northern basin of the Dead Sea on January 11, 2017. (Melanie Lidman/Times of Israel)
Salt-covered rocks on the shores of the northern basin of the Dead Sea on January 11, 2017. (Melanie Lidman/Times of Israel)
The US envoy, who earlier this week met with Prime Minister Benjamin Netanyahu and senior Palestinian negotiators as part of a bid to relaunch talks, noted that Thursday's agreement is the second recent deal between Jerusalem and Ramallah to improve the daily lives of Palestinians. On Monday, Energy Minister Yuval Steinitz and PA Prime Minister Rami Hamdallah attended a ceremony launching a new Jenin electrical substation.
Thursday's water deal was reached under the tutelage of Regional Cooperation Minister Tzachi Hanegbi, who hailed the so-called Red Sea-Dead Sea Conveyance project as the "biggest and most ambitious project event initiated and exercised" in the area.
"Unfortunately, in our neighborhood we don't always have a reason to smile. This morning we do," Hanegbi said. "After years of …read more
Source:: Israpundit