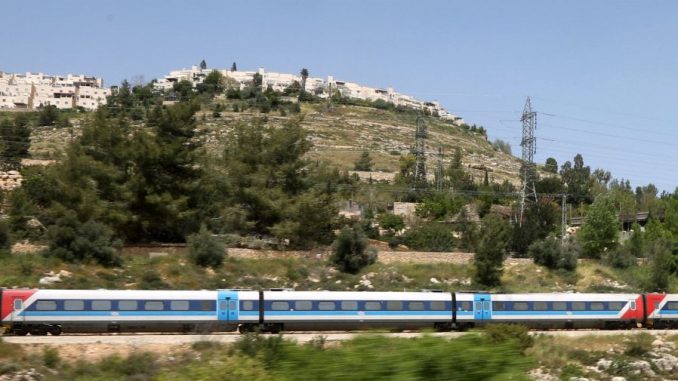 A nation of commuters will be delighted by news of the successful railway test.
By Eytan Halon, JPOST
28 minutes. That's the time it took for a passengerless train to make the journey from Tel Aviv to Jerusalem on Sunday in the first test run of the new high-speed rail link connecting two of Israel's major cities, according to Channel 2.
A nation of commuters will be delighted by news of the successful test. The route, set to open in April 2018, will significantly cut the time currently required to travel from Tel Aviv to central Jerusalem by road or train.
The high-speed railway has been under construction since 2001 and will complement the existing, slower Jaffa-Jerusalem railway. Trains traveling on the 19th century Ottoman-built railway, which winds between picturesque hills, take approximately 80 minutes to arrive at their final destination. Many commuters opt to travel by car or bus.
Praising the test, Israel's Transportation Minister Israel Katz said: "The high-speed train… will ensure the status of Jerusalem and the ability for people to live there and to open businesses. It will completely change the relationship between Jerusalem and the rest of the country."
A bridge, part of Israel Railways' Jerusalem High Speed Link project, is seen near the Israeli town of Modiin July 7, 2012. (Reuters/Baz Ratner)
Trains will service all four of Tel Aviv's railway stations, pick up passengers at Ben-Gurion Airport and conclude their journey at Jerusalem's new railway station near the city's central bus station. During peak times, three trains per hour are expected to travel in each direction.
An infrastructure project requiring nine bridges and four tunnels was never going to be cheap. When complete, the railway is expected to cost in the region of NIS 7 billion, over double its original estimate.
The new railway is expected to change Israel's transport and work scene, effectively turning Tel Aviv and Jerusalem into commuter towns for each other.
For many Israelis, the end of the daily trauma of endless traffic jams and delays on Israel's highways is now in sight. April 2018 promises to bring a quicker, stress-free alternative.
Source:: Israpundit