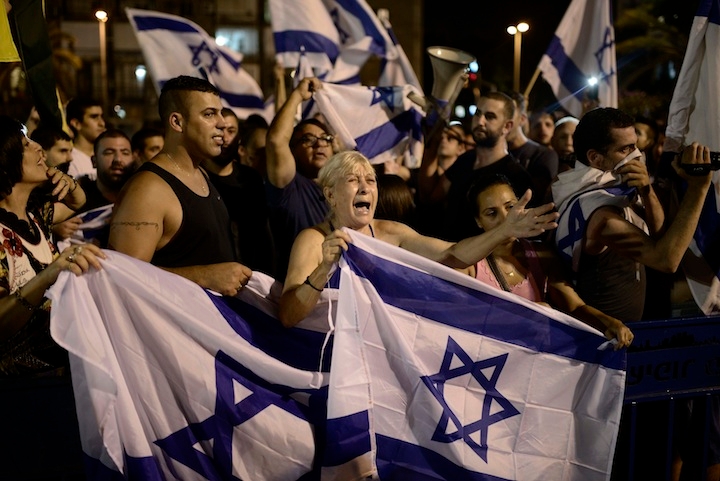 Right-wing Israelis demonstrating at Rabin Square in Tel Aviv in support of Israel's military offensive in the Gaza Strip, while left-wing Israelis rally nearby, July 26, 2014. (Tomer Neuberg/Flash 90)
JERUSALEM (JTA) – As we approach Tisha b'Av, the State of Israel is at war. The day's commemoration of sorrow and pain, and urgent calls for introspection and reflection, couldn't be coming at a more needed time.
On Tisha b'Av we take upon ourselves the burden, and the grace, of our connection to all Jews past, present and future, in times of suffering, as in times of joy. Maintaining that solidarity isn't easy, and it takes work, on Tisha b'Av itself, and the whole year through.
Jews love to argue, above all with one another. The higher the stakes, the higher the decibels, and at times, things can get ugly, and worse. This current war has fostered much consensus within Israel, but large arguments are not far beneath the surface, and outside Israel they are out in the open. Can we argue with one another and still remain whole?
From the Bible onward, death and destruction have been seen not only as challenges to overcome but as occasions for us to come to grips with our own flaws and responsibilities. The Second Temple, the rabbis of the Talmud famously said, was destroyed in 70 CE because of "sinat chinam," literally free hatred, or hatred for no reason.
Rabbi Avraham Yitzhak Hacohen Kook (1865-1935), the first Ashkenazi chief rabbi of modern Palestine and the leading theologian of religious Zionism, famously said that the Temple will only be rebuilt through "ahavat chinam," freely given love. But in light of current events, and the heated debates they have unleashed, it's worth focusing on a different dimension of Rav Kook's teachings – and that is how to fight with one another.
Today's debates are ferocious, but so were the Jewish arguments of the last century. Zionists, socialists, nationalists, Orthodox traditionalists, liberals and more argued intensely, often bitterly, over how best to secure Jewish physical and cultural survival. Kook, who made aliyah from Eastern Europe in 1904, found himself at the center of those debates and tried, with the aid of vast learning, theological daring and his own richly conciliatory personality, to find a way to forge some kind of peace while honoring the integrity of different positions.
In one of his reflections, he wrote, arrestingly, that three forces are at work within all people: "the holy, the nation, humanity." The revolutionary changes of modern times have torn them apart, yielding, among Jews, three different, regularly antagonistic currents – nationalism, liberalism and Orthodoxy.
All three have truth on their side, and must try to appreciate one another – not by wishing away disagreement but recognizing the integrity of each other's positions: Nationalism's rootedness in real love of one's community, Orthodoxy's rootedness in a flaming desire for God, liberalism's rootedness in an ultimately divine perspective of all humanity as created in God's image.
What synthesizes all three elements – religious commitment, national identity …read more
Source: JTA