250 of group's members to be investigated, over 1,000 arrested, following violent weekend clashes, state news agency says. Confrontations between Morsi supporters, Egyptian security forces, leave more than 170 dead
Egyptian prosecutors have placed 250 Muslim Brotherhood supporters under investigation for murder, attempted murder and terrorism, the state MENA news agency said on Saturday.
Police arrested more than 1,000 Brotherhood sympathisers in the wake of clashes on Friday that pitted followers of deposed IslamistPresident Mohamed Morsi against the security forces. More than 170 people died nationwide in the violence that day. 

For more than a month since the July 3 military overthrow of Morsi, Muslim Brotherhood members and supporters have attacked and torched scores of police stations and churches, in retaliation. Shops and houses of Christians have been targeted.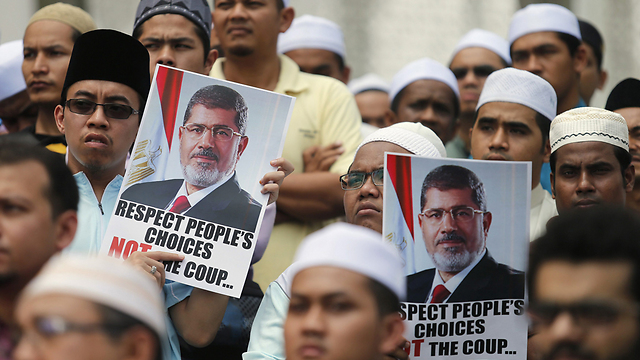 Morsi supporters in Egypt (Photo: Reuters)Â 
Such attacks spurred widespread public anger against the Brotherhood, giving the military-backed government popular backing to step up its campaign against the Islamist group. It reminded people of a decade-long Islamist insurgency against Mubarak's rule in the 1990s which only strengthened security agencies and ended up with thousands of Islamic fundamentalists in prisons. Â Â 
The assault on the al-Fath Mosque began Friday, as pro-Morsi protesters and armed men fled into the worship center to avoid angry vigilantes and arrest. They piled furniture in the mosque's entrance to block authorities and enraged anti-Morsi protesters from reaching them. 
The mosque served as a field hospital and an open-air morgue as a Brotherhood-called day of protests descended into violence. By daybreak Saturday, security forces and armored personnel carriers had surrounded the mosque and it appeared that military-led negotiations might defuse the standoff. 

Clashes (Photo: Reuters)Â 
A post on the Facebook page of the army spokesman, Col. Mohammed Ali, accused gunmen of firing from the mosque at nearby buildings, located on Ramses Square in central Cairo. The upper floors of a commercial building and blood bank towering over the square caught fire during the mayhem, with flames engulfing it for hours. 
A Muslim cleric, Sheik Abdel-Hafiz el-Maslami, told The Associated Press that people were afraid to leave the mosque out of fear of detention or being assaulted by the crowd outside. He said there were armed men inside the mosque at one point, but protesters had forced them out. 
"We lost control over things," the cleric said. "There were men with arms in the mosque who were forced out of the mosque, but we can't control things here." 
He said there were ongoing negotiations with the military to enable the protesters to safely leave. State television showed small groups emerging from the mosque by late Saturday morning. 
However, local journalist Shaimaa Awad, …read more
Source: Israpundit