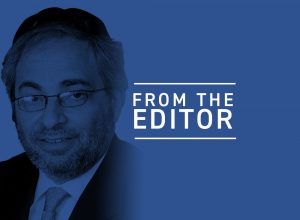 On some days, and after an array of international events, if we view occurrences from a different angle or perspective than usual, it can appear as if the things that Donald Trump does are a manifestation of prophecy as we know it on some level. No, Trump is not a prophet. Let's be clear about that, as he does not fit the job description and is not equipped for the position. But it is entirely possible that he is an instrument, a player, or even a cog in the machinery that brings the prophecies to fruition.
Any one of us can play that kind of role as earth-shattering events begin to unfold. Some play larger roles than others, and in a sense we all have our supporting parts to carry out. And you do not have to be Jewish to qualify. Consider the biblical prophet Bila'am, or Lot, who played a pivotal role in the evolution of Jewish life in the world.
But most of us know and understand that this cannot be the case, and we are way off if we think that the destiny of the world, of Israel, and of the Jewish people is somewhat contingent upon the off-the-cuff and reflexive tweets of this man with no political background, no real future political expectations beyond 2024, and a somewhat coarse demeanor.
In these seemingly advanced and modern times, if there is one thing that we can count on, it is that we just do not and cannot know how our long-ago-foretold destiny will ultimately unfold.
Every now and then there are hints and hopes that look like a turning point at which things will crystalize, and, if not completely clear, it will be a bit more evident what lies ahead for us and all of the Jewish people, whether in Israel or the Diaspora.
In modern times, there was the unspeakable tragedy of the Holocaust and its impact on generations. Another more recent turning point was the Six Day War in 1967. Part of what makes a miracle miraculous is the element of surprise and unexpectedness, and that was the case then as Israel, the underdog, scored a great victory that changed the face of the country.
This is what the prophet Isaiah said (2:4): "He shall judge between the nations, and shall decide disputes for many peoples; and they shall beat their swords into plowshares, and their spears into pruning hooks; nation shall not lift up sword against nation, neither shall they learn war anymore."
We could have thought, arguably, that there were other indications in history that flirted with the realization of this world-changing prophecy that dates back to some 2,800 years ago. But those times and events are now in the past; some great and even momentous things occurred, but we are all still here and the matter at hand is dealing with the reality as it exists around us today.
Perhaps it is our educational or yeshiva orientation that communicated to us that when the final redemption and the arrival of Mashiach as we understand it will occur, it will be a result of a confluence of events that will take place in some fast-paced fashion that we will not be able to keep up with. We are taught that one day Eliyahu HaNavi will appear and give us a three-day heads-up, and that will be it—we will be on our way.
Others, however, maintain that the events leading up to that day will unfold slowly, will be deliberate and as natural as life is today. And that is why, in part, this situation with President Trump and other collateral events seem so extraordinarily interesting.
In the days of Mashiach, as the prophet says, nations will switch their armaments and weapons of war into farming-like equipment that will be used to sow seeds, grow food, and feed people around the world. In other words, they will "beat their swords into plowshares."
Now the unfolding of things in this direction can possibly be traced back decades. Maybe it started with Anwar Sadat of Egypt visiting with then Prime Minister Menachem Begin and addressing the Knesset in Jerusalem. That was back in 1979.
A few years later there were peace treaties with Egypt and Jordan, once Israel's avowed nemeses.
Let's advance the process to today and the expectation that a president like Mr. Trump was going to somehow irresponsibly plunge this country into war, and for a short time at the outset of his administration that looked like a very real and distinct possibility. Then something happened.
But that is not the case anymore. Mr. Trump, as the readers know, has reached out effectively to Kim Jong-un of North Korea. He is working closely and with some increasing success with China and the Russians. He has even extended a hand for the purposes of peace to the mullahs in Iran—the arch terrorists of the modern world today. The terrorists and the warmongers are a bit stunned.
Last week at the Bahrain Conference, the foreign minister of Bahrain said that on behalf of his people, he recognizes that Israel is a part of the Middle East and that he welcomes the Jewish nation to the regional equation. The Gulf States led by Saudi Arabia have nudged the once-central issue of a Palestinian state to the side. Where the Palestinians will land in all this is a mysterious part of the puzzle. As Prime Minister Netanyahu said at a U.S. July 4th celebration in Jerusalem on Tuesday, quoting the late Israeli diplomat Abba Eban, "The Palestinians have never missed an opportunity to miss an opportunity." Here it is again.
I don't know where this is going. Maybe it is another false start or the seeds of something that might happen or could happen but for some reason will not develop right away. It is true that things are happening quickly but still might take a long time. Getting a handle on that aspect of things is, by design, beyond our comprehension.
If that's the way He wants it, well, He's the boss. Whatever it is, hopefully we are ready.
Read more of Larry Gordon's articles at 5TJT.com. Follow 5 Towns Jewish Times on Facebook, Instagram, and Twitter for updates and live videos. Comments, questions, and suggestions are welcome at 5TJT.com and on Facebook, Instagram, and Twitter.