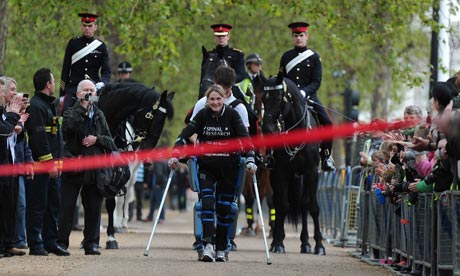 Claire Lomas approaches the London Marathon finishing line in her Israeli-developed ReWalk bionic suit 
CONTENTS
1. Israeli technological achievements to be shown to President Obama
2. Tchaikovsky Flashwaltz at Jerusalem's Hadassah Hospital
3. In the field of energy alternatives — Phinergy: revolutionizing how we drive
4. In the field of the struggle against traffic accidents — Mobileye
5. In the field of medicine — Rewalk
6. In the field of search and rescue — robot snake
7. In the field of medicine — BNA technology by ElMindA
8. In the field of medicine — MiniDesktop
9. Israel develops the next generation operating room
ISRAELI TECHNOLOGICAL ACHIEVEMENTS TO BE SHOWN TO PRESIDENT OBAMA
There has been considerable coverage already devoted by papers such as New York Times to Barack Obama's forthcoming visit to Israel this week, his first as American President. Much has been written about the prospects for reviving (or not reviving) the Israeli-Palestinian peace process, and about the issue of Iran's race towards a nuclear weapon, which is said to be high up the president's agenda.
But during his visit, Obama will also be shown a special exhibit put on for him highlighting a few of the technological breakthroughs made by Israeli universities and start-ups – in the fields of renewable energy, the fight against traffic accidents, medicine, search and rescue, and robotics.
Israel was recently ranked first country in the world in "research and development intensity" in a comprehensive study published by the Bloomberg news agency.
The innovations that Obama will see are outlined below, with accompanying videos.
TCHAIKOVSKY FLASHWALTZ AT HADASSAH HOSPITAL
But before that, you may also wish to view this remarkable "Tchaikovsky Flashwaltz" performed last week by forty students from the Jerusalem Academy of Music and Dance, who adopted a classical approach to the flashmob trend as they flashwaltzed Tchaikovsky's Waltz of the Flowers at the new wing at Jerusalem's Hadassah hospital. Doctors, patients and passers-by joined in the fun.
The surprise concert was part of Good Deeds Day, an annual event that originated in Israel in 2007 and now takes place in over 50 countries worldwide.
The Academy students enjoyed the performance so much that they have decided to schedule regular concerts at the hospital. The Hadassah Medical Organization treats over one million patients annually, without regard to race, religion or national origin.
***
For another video of an impromptu performance by Israeli classical musicians — in which members of the Israel Philharmonic Orchestra sing the chorus from Verdi's Il Trovatore at Tel Aviv's Dizengoff shopping center, to the surprise of Friday morning shoppers, please see this video dispatch from 2010.
Six of the seven products that Obama will see, are:
IN THE FIELD OF ENERGY ALTERNATIVES — PHINERGY: REVOLUTIONIZING HOW WE DRIVE
Phinergy has developed an aluminum-air battery designed for electric vehicles, which allows a significant increase in travel range (three times that of a regular electric vehicle). Based on research conducted at Bar-Ilan University near Tel Aviv, the technology will allow for a reduction in global oil consumption. The
…read more
Source: Israpundit