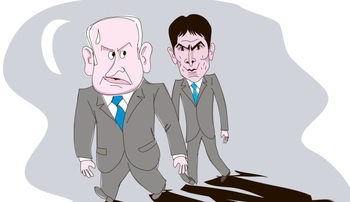 "
Lunacy
." That's how Danny Danon describes Prime Minister Binyamin Netanyahu's decision to hand over 
104 killers
 to the Palestinian Authority as a "goodwill gesture."
He's hardly alone, as many observers (including 
myself
) are outraged by this move. But Danon, 42, has a unique place in this debate because he (1) sits in Israel's parliament as a member of Netanyahu's Likud Party, he (2) is chairman of Likud's powerful Central Committee, and he (3) serves as Israel's deputy minister of Defense. In American terms, his criticism resembles Gen.
Stanley McChrystal's 2010 interview
 mocking Vice President Joe Biden. But McChrystal was gone within days whereas Danon continues to gain influence and stature.
Danon (right) is widely seen as a thorn in Netanyahu's side, as in this Ha'aretz cartoon.
Danon's ability to denounce his own prime minister's actions points to his not being a routine politician. Three qualities stand out: a devotion to principle, a mastery of tactics, and the ability to articulate a vision.
Danon has remained true to the core principles of his party and his country. His righteous opposition when his party makes mistakes — such as the 2009 freeze on building residences for Jews on the West Bank or accepting the 
two-state solution
 — shows a strength of character. As he points out, "It's not easy being in a room of thirty people, alone saying no."
His rise through Israel's national camp institutions reveals tactical skill: serving as assistant to Uzi Landau, as head of the World Betar Organization, then head of the World Likud Organization, as organizer of street protests and challenger to the prime minister for the party's leadership. These efforts culminated in his strong showing in his party's electoral list (coming in No. 5) and the jaw-dropping 
85 percent
 of the vote he won in elections to lead Likud's Central Committee. With reason, the 
Forward
 newspaper calls him "a master of social and conventional media" and the 
Times of Israel
 deems him "a major stumbling block toward Palestinian statehood."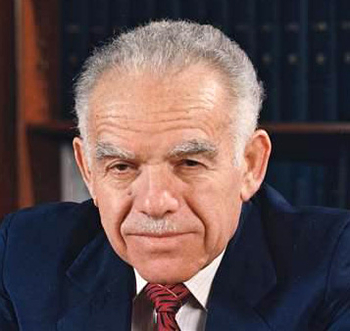 Yitzhak Shamir, Israel's last principled prime minister, left office in 1992.
Finally, the vision: Its fullest articulation is found in his 2012 book, Israel: The Will to Prevail (Palgrave), where he sketches an ambitious and contrarian view of his country's foreign policy. Arguing that "history shows us Israel is often better off when she acts on her own behalf … even if that means contravening the wishes of U.S. administrations," he concludes that the Jewish state "fares best when she makes decisions based on her own best interests." Jerusalem, he holds, should pursue its goals "with or without backing from her allies." This argument, commonplace enough for most states, is audacious in the case of small, beleaguered Israel.