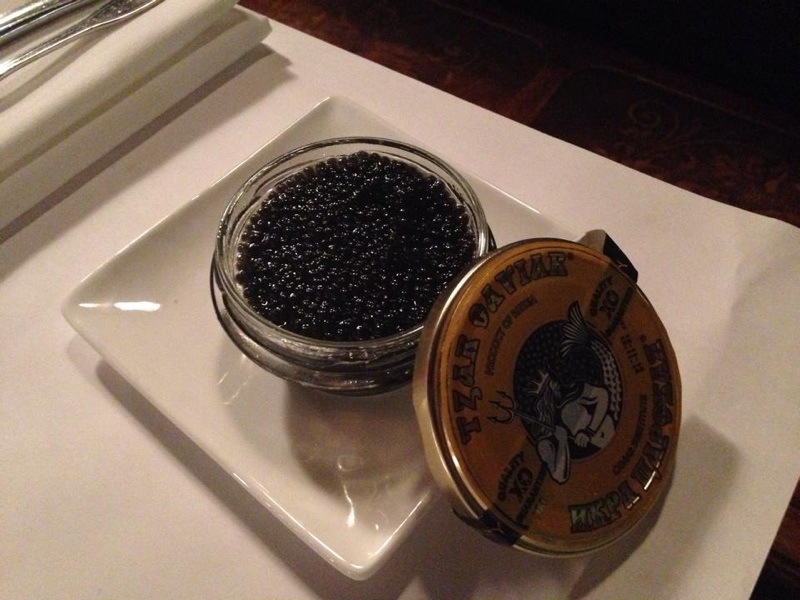 The Saint Petersburg company Tzar Caviar used molecular engineering to produce a kosher caviar substitute now available in New York and Paris. (Courtesy Tzar Caviar)
PARIS (JTA) – In a penthouse office with a view of the Eiffel Tower, Olivier Kassabi uses a ceramic spoon to extract a small scoop from a jar labeled as Russian caviar.
Placing a clutch of black globules on the base of his thumb, Kassabi licks it off, savoring every fishy drop of the salty liquid inside the dark beads as they pop in his mouth.
As recently as a few months ago, Russian caviar would have been strictly off-limits for an observant Jew like Kassabi. Sturgeon, the endangered fish species whose eggs are harvested to produce caviar, is not kosher.
That's what led Kassabi to import and market a caviar substitute that he hopes satisfies not just the growing demand among observant Jews for affordable delicacies, but also the desire for sustainable foods with minimal environmental impact.
"In the age of mass media and globalization, Jewish communities are much more exposed to fine cuisine," Kassabi said. "People see special dishes on food blogs and they want a taste."
Kassabi is not the only businessman aiming to tap into what people in the food world see as a growing demand among observant Jews for gourmet foodstuffs that meet their dietary needs.
Last year, the Brooklyn-based Black Diamond Caviar started marketing a caviar substitute from a non-endangered kosher fish called bowfin that is caught in Louisiana. And in February, Le Rafael became the first kosher restaurant in France to earn two stars from the vaunted Michelin Guide.
"All over the world, average restaurant goers are becoming more demanding because of the popularization of the the culture of gourmet dining, and kashrut keepers are no exception to this trend," said Guy Cohen, one of the owners of Le Rafael, which is testing Kassabi's substitute caviar. "Clients have become very demanding and we are rising to the challenge."
Kassabi's caviar interest was piqued last year when he read that a company in Saint Petersburg called Tzar Caviar was developing a caviar substitute through a process known as molecular engineering in which a fish bouillon is made to resemble the contents of sturgeon eggs in taste and consistency. The liquid is then compressed into a membrane that looks like the soft shell of a fish egg.
The result is a kosher product that its producer claims more closely resembles real caviar than most other kosher fish roes on the market.
Overcoming Tzar Caviar's fear of compromising the secrecy of its production methods took some time, Kassabi said. But within a few months he was able to arrange for kosher supervision from the chief rabbi of Saint Petersburg, Menachem-Mendel Pevzner.
Kassabi and his partner, Yohann Assayag, have sold hundreds of jars of Tzar Caviar since they began marketing the product earlier this year. The demand is especially strong in France, where the ostentatious nature of Jewish weddings and other festivities is so renowned it is the stuff of parody, most famously in …read more
Source: JTA