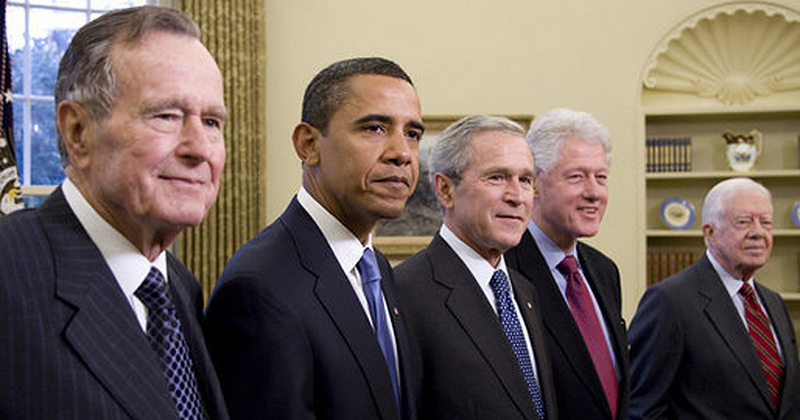 The old guard globalist world order is collapsing, starting with the Clintons
Jamie White, INFO WARS
The Clinton and Bush era of the last 30 years is about to come to an end in light of the sudden Saudi Arabian purge of Clinton and Bush allies.
Brazile's book "Hacks: The Inside Story of the Break-ins and Breakdowns that Put Donald Trump in the White House" contains several bombshells, including that Hillary Clinton did in fact rig the 2016 primary against Bernie Sanders, and that Brazile felt like a "slave" who feared for her life following the murder of DNC staffer Seth Rich.
"That means that Brazile knew Rich had been murdered for political purposes," says insider Roger Stone, adding that Julian Assange of WikiLeaks confirmed his sources were not Russian, and were in "great physical danger."
Brazile is the first prominent Democrat to turn on Clinton in what appears to be a sacrifice by the establishment, as Clinton's self-centered behavior no longer serves their interests, and they need to make the persecution of Trump seem less politically motivated.
Brazile even pointed out that Bernie was more popular than Clinton, saying: "I did not trust the polls. I told [Sanders] I had visited states around the country and I found a lack of enthusiasm for her everywhere."
The accurate coverage of the Uranium One scandal by the mainstream media is another indicator that the establishment is ready to dump Clinton.
Another significant development tied to Clinton's downfall is the sudden purge of corrupt royalty in Saudi Arabia by King Salman, including ten princes and 38 senior cabinet members.
It's worth noting that Saudi Arabia accounted for 20% of the Clinton campaign's funding in 2016.
Among the royals arrested was billionaire and Clinton Foundation donor Al-Waleed bin Talal, best known for picking a fight with Trump on Twitter during the 2016 Presidential Election.
?????? ?? ????
?@Alwaleed_Talal
.@realDonaldTrump
You are a disgrace not only to the GOP but to all America.
Withdraw from the U.S presidential race as you will never win.
9:02 PM — Dec 11, 2015
7,1667,166 Replies
32,41232,412 Retweets
19,22719,227 likes
Twitter Ads info and privacy
Trump, being a counterpuncher, hit back in kind.
Donald J. Trump
?@realDonaldTrump
Dopey Prince @Alwaleed_Talal wants to control our U.S. politicians with daddy's money. Can't do it when I get elected. #Trump2016
5:53 AM — Dec 12, 2015
4,5624,562 Replies
20,26620,266 Retweets
22,18222,182 likes
It's also well-known that the Bush and Clinton family are closely tied to each other, as W. Bush has referred to Bill Clinton as "a brother from another mother," and they've worked together for years on initiatives like the Presidential Leadership Scholars program.
The Bush …read more
Source:: Israpundit