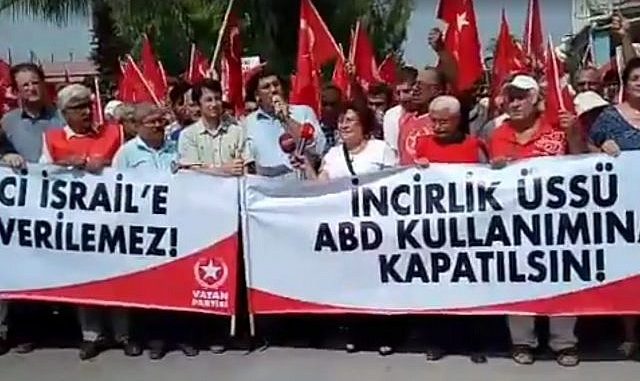 Israeli embassy in Ankara evacuated as demonstrators seek to portray upcoming Kurdish independence referendum as Zionist plot
By Sue Surkes, TOI
THe Israeli Embassy in Ankara was evacuated on Friday as supporters of an ultra-nationalist party demonstrated outside against what they called plans to create a "second Israel" in Iraqi Kurdistan.
Utku Reyhan, secretary-general of the Homeland Party, said in a press statement that a unilateral independence referendum called for September 25 by the Kurdistan Regional Government was a "declaration of war by US imperialism and Israeli Zionism against countries in the region."
Attempts to establish a Kurdish state, "which our party has been calling 'Second Israel' for 30 years," threatened the territorial integrity of Turkey and Iraq, he charged.
Bearing banners with the slogan "We won't allow a Second Israel," the Homeland Party took its protest to the Incirlik Air Base in Adana, southern Turkey, on Saturday and was planning a protest outside the Israeli consulate in Istanbul on Tuesday.
In recent days, Turkish media has been abuzz with reports that Kurdish leader Masoud Barazani has reached a secret deal with Jerusalem to have the descendants of Kurdish Jews in Israel repatriated to Kurdistan after the referendum.
Iraqi Kurdish leader Massoud Barzani. (Helene C. Stikkel/Wikimedia Commons)
The Homeland Party is a small, ultra-nationalist faction that wields power disproportionate to its size thanks to the widespread presence of its supporters in the Turkish security services.
Its leader, Dogu Perincek, is opposed to the Kurds and to the Gulenists – the followers of a US-based Turkish religious and political figure, Fethullah Gulen, whom Turkish President Recep Tayyip Erdogan blames for a failed coup attempt in 2015.
Erdogan has arrested well over 110,000 people in a continuing crackdown on what he calls suspected Gulenists.
The Kurdish region's independence vote has faced strong opposition from Turkey and Iran, as well as the federal government in Baghdad. Ankara and Tehran fear it will stoke separatist aspirations among their own sizable Kurdish minorities.
Critics of the vote include the United States, the European Union and even some members of Iraq's 5.5-million-strong Kurdish minority.
Going against the tide, however, Prime Minister Benjamin Netanyahu last week reiterated his support for an independent Kurdish state, in what was seen as a calculated snub to Erdogan over his support for the Palestinian terror group Hamas.
Immigrants from Iraq and Kurdistan exit their plane on arrival in Israel, having flown via Tehran. (Teddy Brauner, GPO)
The Jewish presence in Mesopotamia dates back to the Assyrian conquest of the Kingdom of Israel in 722 BCE and the Babylonian conquest of Israel's southern tribes in 586 BCE.
While a few Kurdish Jews settled in the northern Galilee town of Safed in the 16th century, and more immigrated in the early 19th century, it was not until Israel's Independence in 1948 that anti-Jewish violence forced almost the entire community to move to the nascent Jewish state.
Much of the Kurdish Jewish community emigrated to Israel in the years following its establishment. Today, nearly 200,000 Jews of Kurdish descent are believed to live in the country, half of …read more
Source:: Israpundit